'Organic' Sikkim issues blanket ban on Diwali firecrackers
Sikkim is the first state in Northeast India to order a blanket ban on sale and use of firecrackers during Diwali. S C Gupta, chief secretary of Sikkim, in an order issued on Wednesday under section 522 (2) (h) Disaster Management Act 2005, banned bursting fire crackers, citing concern about air pollution.
The blanket ban on the sale and use of firecrackers in Sikkim will turn the Tihar festival a totally lackluster affair amid the COVID19 pandemic. "Significant numbers of COVID-19 patients have recovered. But the increase in air pollution on burning crackers may prove hazardous for the recovered as well as active COVID-19 patients," the chief secretary said in the order.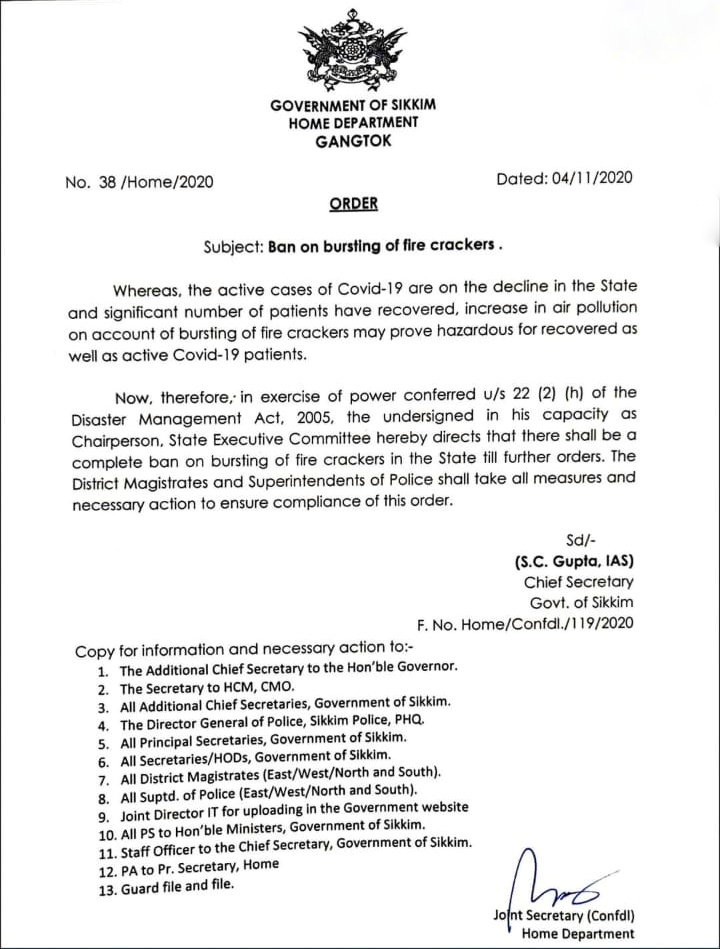 The notification issued by the chief secretary said there shall be a complete ban on the bursting of firecrackers in the state till further orders. Since 2014, Sikkim has been banning the sale and use of firecrackers to maintain the air quality in the Himalayan state. While people in urban areas complied with the orders, the ban had little or practically no impact outside Gangtok, the capital city.
However, the district magistrates of all the districts in the state are likely to be extra cautious this year to enforce the ban on the use of firecrackers because of the ongoing
pandemic situation. Otherwise, people of Sikkim are law abiding, and are likely to
understand the significance of the ban amid the pandemic. Sikkim is the first state in the world that is 100 percent organic: All of its farmland is certified organic.